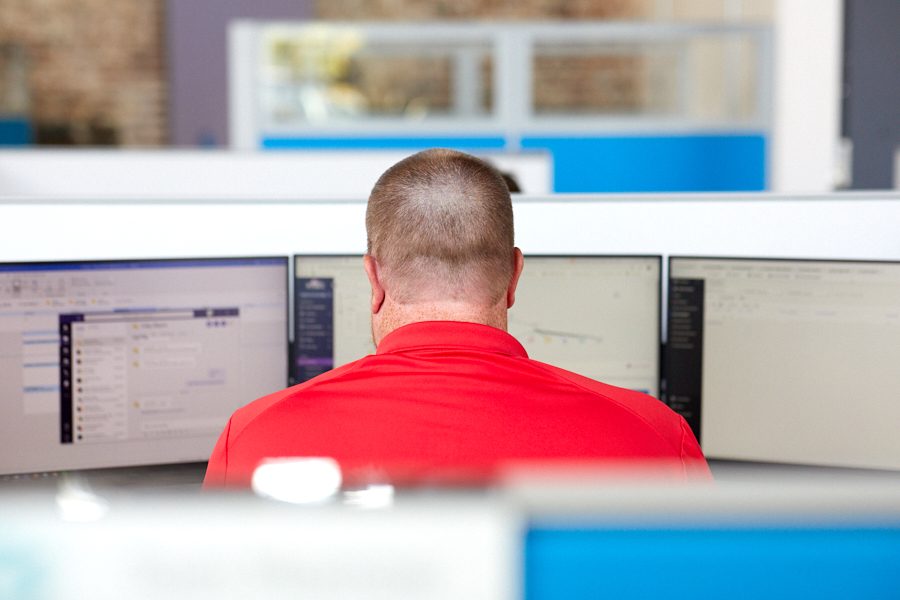 Case Study:

Continuous Improvement with Power BI
About our Client
Our partner delivers industry-leading building automation systems. They are charged with optimizing energy consumption and integrating legacy systems with new systems to create products that are efficient, affordable, and easy to use.  In business for over 30 years, they have honed their core competencies of providing stellar customer service, automation, and integration for their customers.  So, it only makes sense that continuous improvement means identifying and applying those same rigorous standards of automation and integration within their own walls. We are proud to say they partnered with us to make it happen.
 The Challenge
The comprehensive roadmap started with changes in the Managed Services program, then quickly moved to building a cloud-based data platform, integrating data from multiple sources.  Finally, the roadmap laid out a plan for automating their reporting processes so they could shift focus from data collection and management to data-driven decision making.
The firm operated from a Microsoft Access database built for financial reporting.  They were quickly outgrowing this solution and had added additional applications.  However, these were limited to native reporting and raw downloads and weren't providing advanced insights.
Challenges with their legacy reporting platform included slow data extracts/downloads, delayed customer response times, and minimal automation were key factors, as well.  They knew there was room for improvement.  After a false 'start with another firm, they partnered with GadellNet to build a modern, user-friendly Business Intelligence (BI) platform to drive their business into the future.
Scope
Migrate from Access database to a cloud-native stack, with a focus on modernization and automation of financial reporting.
Gain visibility in more areas of the business including job performance, customer service, marketing, and employee engagement.
Build a low-maintenance data pipeline to acquire data from many sources including databases, Software-as-a-Service (SaaS) platforms, and local files.
An experienced partner capable of implementing user-friendly solutions on schedule and on budget.
 Solution
After initial discovery, it became clear that an iterative, product-focused development effort was the right approach to building out a data platform for the client.  In Phase 1, GadellNet focused on automating the financial data pipeline and adding Power BI as the company's new visualization tool. GadellNet implemented an existing data warehouse application built specifically for their accounting system, resulting in a fully automated connection between the two systems. Use of an existing product hastened delivery and increased ROI.
"Our approach added much needed automation to reporting and removed the manual refresh cycle that was happening," says Adam Steht, Director of Business Intelligence at GadellNet.
Future phases focused on other key areas of the business.  Prior to implementation, GadellNet worked with the client to map out the flow of data coming from various sources into the new data warehouse.  To carry out our goal we implemented Stitch, Azure Data Factory, Logic Apps, Power Automate, and Azure PostgreSQL to create a robust platform that the entire organization would use for insights related to financials and job performance, employee engagement, customer satisfaction, marketing, and more.
"These technologies are accessible to everyone," says Steht. "What is important is the way we implemented them. We strive to implement simple, low-maintenance data pipelines. This allows us to focus more on the value of our output – the end user facing piece of the puzzle."
GadellNet was focused on building a system that supplied not only automation now but allowed for uninterrupted expansion and growth in years to come.
Outcome
Our partner notes that the biggest ROI is the time savings.
"We don't have to dig and mine and scrub and export," notes the team's Operations Manager. By adding automation to reporting, that time has been reallocated to getting out in front of their business.
Key wins include:
Financial reporting is correct and automatically refreshed daily, at minimum.
Warranty-expiration notices are sent to the sales team prior to expiration dates so that contracts can be renegotiated prior to incidents. This results in better customer interactions.
Readily available trend data – from sales performance to training hours to expense tracking – has turned forecasting and projecting future business from a project to a practice.
Team members have access to information that feeds their autonomy. They no longer depend upon the availability of a single team member to extract, format, and supply the information they need to do their job.
The process of managing required training hours has been optimized for both the team and the trainer resulting in full classes.
"It's kind of a game changer for us," the Operations Manager states.
 Key Learnings
"When we started down this path, we knew what we wanted," says our partner. She goes on to note the importance of the mantra, "begin with the end in mind."
The company now spends time evaluating what the team wants to see and how they are going to use it. And they have the tools to push back on new reporting requests. They have found that not every data request requires a new report, but instead, it requires access to and training on Power BI and then access to reporting the team has already built.
This project has morphed into a long-term partnership.  GadellNet now meets weekly with this client to review business needs and prioritize further development.  We work together to maximize the output of the data platform.  Our team continues to drive value by sourcing critical data and developing new insights within Power BI.  Beginning with the end in mind allowed for increased automation and system integration resulting in swift answers to important business questions.