Case Study:

Onboarding
ABOUT THE FIRM
This Sustainable Architecture and Engineering Firm based in Indianapolis, IN was founded in 2011 and quickly grew. Their mission is to transform communities through sustainable design. This firm had 35 workstations that included a diversified workforce of architects, interior designers, healthcare planners, civil engineers, structural architects, and sustainability professionals. This firm specializes in solving complex sustainability problems for their clients and were ready to continue their growth with their eager staff. They wanted to partner with an MSP that would bring new solutions to the table and keep them on the cutting edge of their field.
WHAT THEY LACKED
They partnered with GadellNet to update its baseline technology. They lacked in several areas of technology:
»Servers with the ability to talk to one another
» Backup and continuity for all key services
» Integrated applications
» Fresh solutions being brought to them
» A workable 3-year budget
» Consistent and scalable technology solutions
» On and off-site 24/7/365 support
SOLUTIONS
GadellNet came in and did a deep dive into the issues Guidon was having. We found out where the disconnects were occurring and where their technology needs were not being met. We asked them what tech they would want in a perfect world then brought solutions to align with those desires and their technology budget.
GadelllNet's flexibility, superior knowledge, and partnerships with other vendors is what made this firm choose GadellNet. Once the onboarding is complete, the day-to-day of their operation will be transformed. The technology and processes will be well-established and streamlined. They will have open communication and quarterly business reviews with their account manager, 24/7 Help Desk, and a 3-year strategy.
PROCESS
We begin with a meeting with key staff members, We fully explain what we are about to embark on. The client is very involved in the onboarding. They are able to voice their opinions and talk through any project work that needs to be done.
ONE WEEKEND ONBOARDING
We come in on Friday to change your systems over. By the time you come in on Monday, everything has been done, like a flip of a switch, meaning no downtime for your team.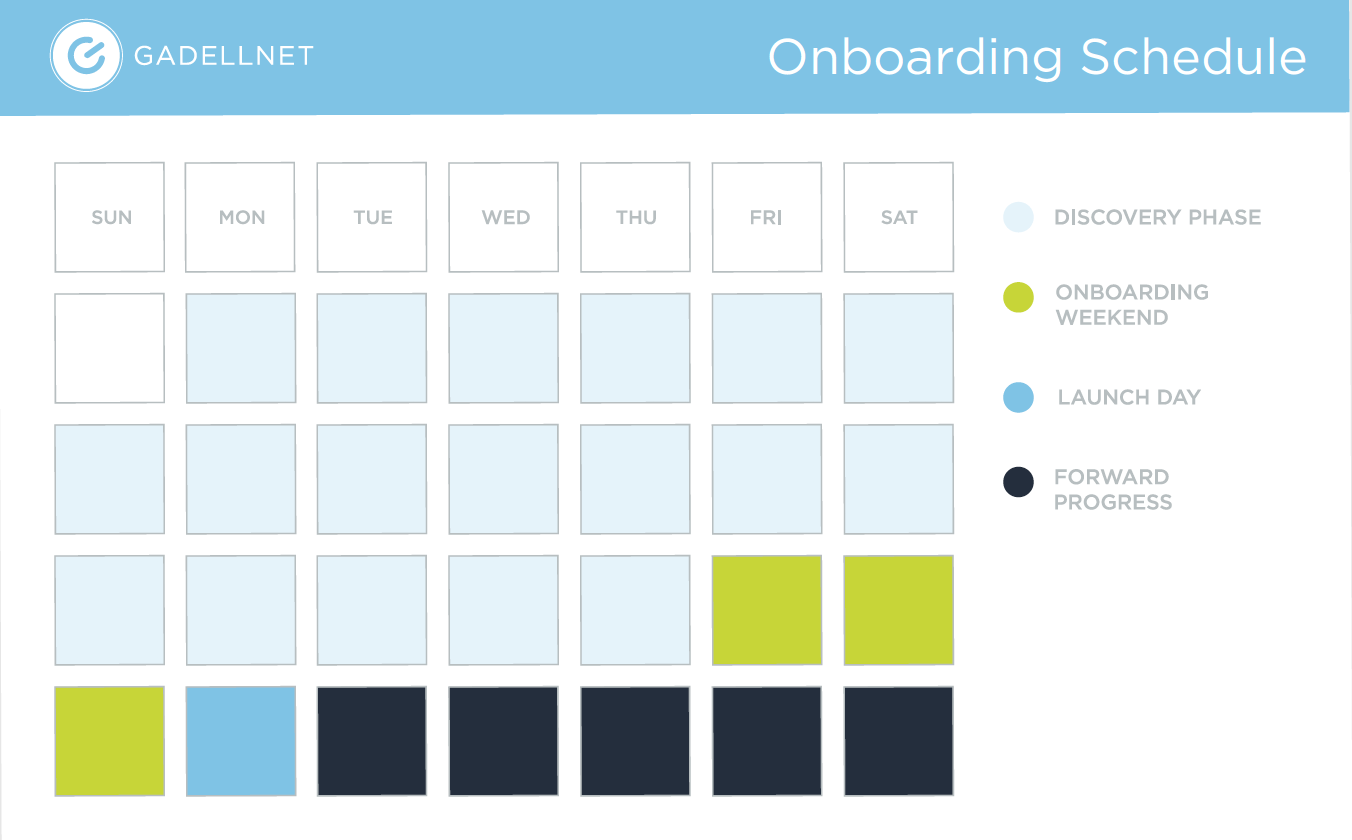 CUBE STORM
The Monday after the one-weekend onbaording, your Account Manager, Client Site Engineer, and Systems Engineer bring donuts and give the entire team a brief on the new tech we implemented. After that, we go around to each work station and make sure all systems are up and running and end users don't have any other lingering issues.