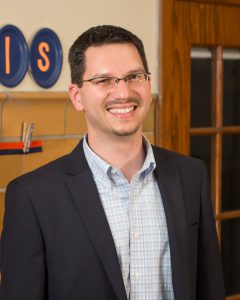 Drew McAllister is our Education Technology Architect. Drew is responsible for helping our education clients make the most of their technology. He is an experienced professional developer and technologist who has thrived with serving teachers and administrators as an Education tech expert here at GadellNet.
Drew has a Masters of Arts in Teaching and some pretty impressive certifications. Drew's  5 years of experience in the IT field and 14 years of experience working in the education field make him the perfect person to bring technology and the classroom together. He is passionate about education and building bridges between technology and learning to ensure student success. He sets out to learn and to inspire others to learn.
Drew's experiences and qualifications include:
7 years of training professionals on effective instruction and technology
10 years of curriculum design and assessment
4 years of experience in the classroom
Degree in Educational Specialist as Educational Technology
Google Certified Educator
Certified Education Technology Leadership (CoSN)
Drew's proficiencies include: 
Productivity Software (Microsoft Office and Google Apps)
Communication and social media software (Skype, WordPress, Twitter, and Facebook)
Multimedia software (video and audio editing, e-leaning, and geo-mapping technologies)
Professional-specific technologies (interactive whiteboards and document camera)
In his role at GadellNet, Drew advises schools on technology vision and practical steps toward that vision. He facilitates strategic technology planning in the areas of access, budget, and professional growth. He also crafts technology solutions that best fit the needs of both students and instructors. Drew thoroughly understands a variety of technologies and their impact on performance. As our Education Technology Architect, he is able to share his skills and knowledge with you.

Put time on Drew's calendar!