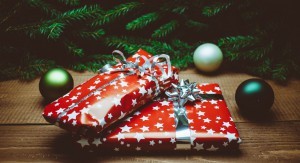 At GadellNet, we believe it is incredibly important to give back to the communities where we live and work. This Holiday Season we have donated canned goods to local drives and contributing to the United Way.
Giving back doesn't have to be hard and it doesn't have to detract from time spent with families over the holidays.
Here are five easy ways you can give back:
1. Donate clothing
Clean out your closets and find the gently used items you don't need. This season, places like Goodwill are especially happy to receive coats, hats, gloves, scarves, sweaters, blankets, and other items to help keep people warm. This is also a great way to make room for the sweaters you will inevitably receive as gifts over the next new months. To save time, check and see if the drop off locations have been expanded for the season. You may find donation boxes at shopping centers and schools.
2. Collect items at work
Leaving a box in your kitchen at work is a great way to collect a good number of canned items. Shelters are always looking for canned items this season to help feed the hungry. If you have children, collect toys they no longer use. This is a great way to clear out room in your house in preparation for what Santa is going to bring.
3. Spread the joy
This holiday season, spread the joy by paying for someone else's coffee. When you are in line or in the drive through, tell the cashier you want to pay for the next person's items. People are always moved by this simple gesture and many feel compelled to pay it forward. It could cost you less than $5 and you can feel great all day knowing you helped someone out without expecting anything in return.
4. Make cards
There are several organizations with which you can make cards and they will give them to someone who could really use it. There are organizations that collect them for children in the hospital, for the elderly in nursing homes, and for our troops who are separated from their families this holiday season. Ask your manager if you can take a little time one Friday afternoon to make these cards with coworkers.
5. Help a neighbor
If you have a friend, family member, or neighbor who could use help raking their leave or putting up their decorations, lend them a hand. Showing that you care and taking a little bit of your time can make a huge impact on someone's life. It is, after all, the season of giving.