Nine members from the GadellNet team took a step away from the day to day hustle to attend true U's Learning Summit aimed at leaders where individuals could explore, engage, and emerge themselves in professional development. 
The environment at this event was supportive, inspiring, collaborative, and fresh.
After this day recharging day of learning, each GadellNet team member shared their key takeway.
"As the Gardner Grows, So Does the Garden"
Ashley is GadellNet's Vice President of Business Development, leading our sales and account management teams. She has been on the GadellNet team for close to five years and is closely tied with GadellNet's growth and client success. During the first breakout session, Ashley's takeaway was "As the gardener grows, so does the garden."
Yes And Mentality
Andrew is GadellNet's Director of Sales in Indiana. He has been on the team for just shy of a year. Andrew has been a huge part of GadellNet's recent growth in the Indianapolis area. From the 2019 Learning Summit, the biggest concept Andrew took was, "Yes and," mentality. Rooted in improv, "yes and" means you are positive, you're open, and you're ready for opportunity.
Mike is our Application Management Leader at GadellNet. He has been with the GadellNet team since GadellNet acquired a company Mike co-founded. Mike's biggest take away was also this same mentality, which requires positivity and acceptance. He also enjoyed learning about the ways different personality types can impact what an employee needs and how a team operates.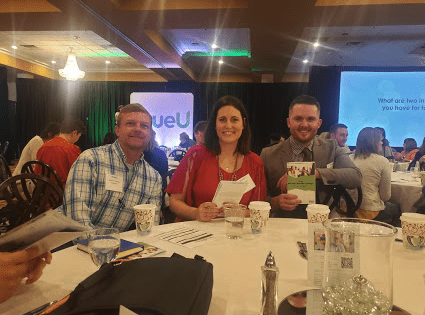 Compassion Fatigue
Jason is pretty new to the GadellNet team, with about a month under his belt. He jumped at the opportunity to grow and learn so early on. Jason is an Account Manager, serving clients in the Indianapolis are. Jason learned about compassion fatigue for the first time at the trueU Learning Summit. He is glad to be aware that this exists and now believes he will be able to implement strategies to deal with the fatigue that can come from giving too much of yourself without recharging.
Paper, Rock, Scissors, Posse
Nick is GadellNet's CEO and has been with the team since 2010. Nick had the opportunity to speak at one of the break out sessions about our Grow or Die value. Aside from sharing with others about growing your business by investing in your team, he took away from this day that there are more ways to use fun to engage employees. Several of the keynote and breakout speakers used fun not only as ice-breakers, but as ways to engage with the audience and share a new perspective with them. Check out an example of this game here: https://leadershipinspirations.com/2018/02/23/rock-paper-scissors-posse/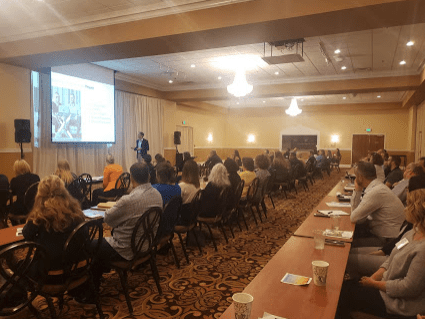 Party of 1? Establish a Peer Group
Kerri is GadellNet's Training and Development Leader. She has been with GadellNet for close to three years. As someone who is typically focused on the training and development of others, a piece of advice that hit home for her was to establish her own peer group to help her grow in her role as she helps others within GadellNet's organization do the same.
Listening to the End
James is GadellNet's Project Manager. James has been with GadellNet for close to a year and a half. James works closely with our clients leading complicated projects. James' biggest take away was about listening. Listening to the end, pausing and taking the time to process, and then responding was something James felt he could take forward to improve the way he works. He also learned from a breakout session some strategies to be more flexible to change and more adaptable.
Day of Development
Jared is GadellNet's Director of Infrastructure Operations. Jared has grown with GadellNet over the past nine years and served in many different roles. Jared's biggest take away was to take a Day of Development. This is an entire day blocked off with the intention of looking inward to understand how far you've come in the last twelve months, what areas you've succeeded in, what could use some more attention, and looking forward to the next twelve months and make goals and plan for where you would like to be.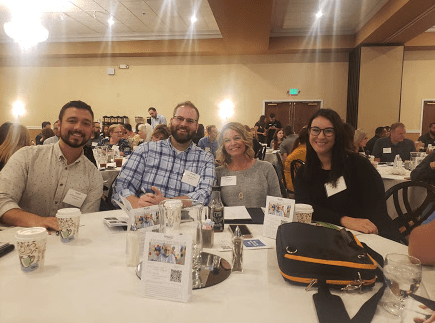 Filling Yourself to Fill Others
Kallie is our Marketing and Communications Leader at GadellNet. She has been with GadellNet for four years. She works with our internal and external marketing and communications. Kallie's biggest take away from the trueU summit was that you have to fill yourself up in order to fill others. If you're not taking care of yourself to ensure that you're needs are met, you don't have anything to give to your team and others around you to help the greater good.
The GadellNet team is excited to take their learnings and apply them to their daily work, their leadership style, their team, and our culture. If you're interested in learning more about what our team learned, feel free to reach out to Kallie.