Development Services
Don't work around technology, make your tech work for you.
GadellNet's team of developers work with you to first understand your business and your goals, then to create the technology you need to achieve those goals. Why? Because IT should just work.
Increasing your efficiency could be a simple fix and with the right team, those scalable solutions could be at your fingertips. Better serve your clients with IT that just works.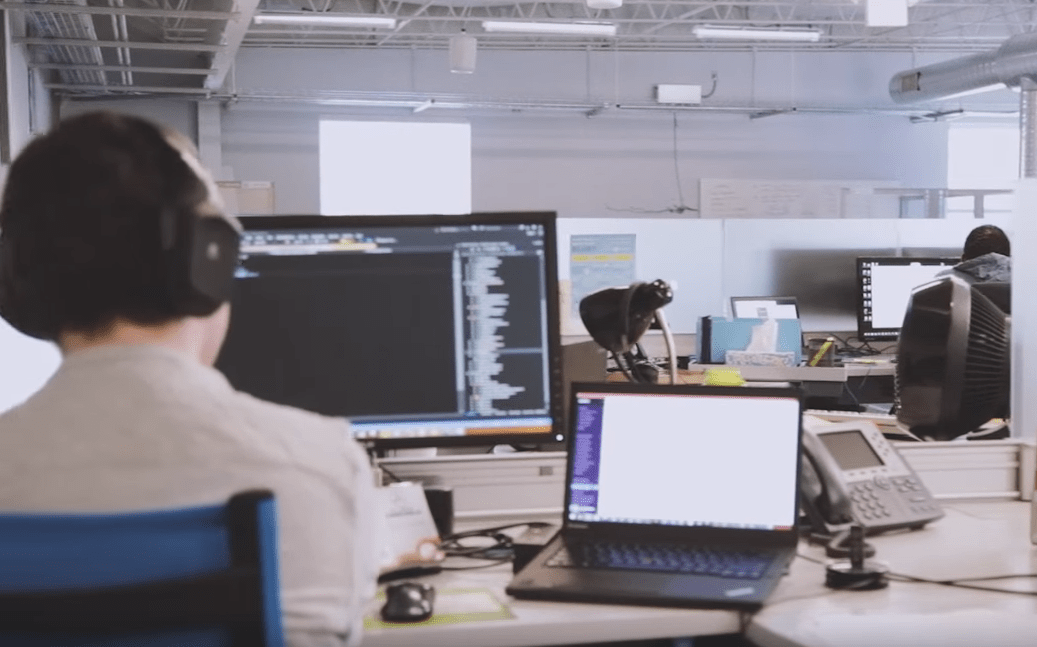 Applications
The expectation on your teams to deliver applications that change the way work gets done has never been higher. They must be securely integrated in real-time with disparate data sources. They need to exchange data with other systems on public cloud, private cloud, traditional systems and other third-party ecosystems in a world of hybrid technology. And they must be capable of running on touch devices of all shapes and sizes so that people can perform business tasks on the go. That's where GadellNet Custom Application Integration Services can help.
Whether you are a software vendor looking for a custom integration with another software, or a business looking to create custom integrations between existing software, the experts at GadellNet are here to help.
Get the progressive software experience you want: to be able to enter, access, report and analyze all of their data across the business.  Because this kind of enterprise workflow fluidity and transparency is not available without an integrated solution, you will win and retain more business.
Call GadellNet– our team of application integration specialists who seek first to understand your business processes and then help craft an application integration strategy for your business.
Custom Application Development
Every business is different- working with different industries, products, clients, targets, goals- and therefore, data. For every unique company, a custom application can be developed to meet the growing demand for seamless data sharing and to achieve business goals. When you have custom applications developed, you increase your flexibility, differentiate yourself in the market, and create efficiency.
Our development team works with your business to understand your business need. From that point, we interpret your goals up front and build the technology to meet those goals.  We create scalable solutions – using custom and, if needed, packaged applications to meet your needs and budget.
Taking advantage of custom application development opens your company up to using business intelligence for improved decision making.
Our Project Management team ensures that projects are done on-time and on-budget, while our development core team has certified experience in  Open Source (HTML 5, JavaScript, jQuery, JSON, CSS, PHP, Python, Ruby, Node.js, MySQL), Microsoft (ASP.NET, MVC, C#, VB, C++, SQL Server), Java (Spring MVC, Oracle), and Mobile (Native iOS, Native Android, jQuery Mobile, PhoneGap).
Think you might benefit from a customer software application? Give us a call and we can help you find a solution for your business needs.
Our Approach
Our approach to application lifecycle management is unique.  From implementation to retirement, we are there to make the required changes to the application to make sure it is still working as it should for your company. Agile course correction requires constant feedback, and we keep our lines of communication clear and free for our clients. Making you the center of the application lifecycle sets us apart.
We seek to help you find the right application for your unique needs. We then implement, support, and report on that application. We are truly there from that initial point to the very end with support in between. We document and track the application, giving you viable reports.
Our Team
There are a lot of bright brains under our company's roof, and they're all great at something different. Which means our skill set isn't just deep, but quite wide as well. From planning to UX and design to development on nearly any platform, we can take your product from back-of-the-napkin idea to execution.
Web Design
Design
Your business goals can be met with a little help from our creative design staff. These individuals have competencies in web and print ensure that your customer-facing materials are not only dynamic and unique – but are functional. Blending functionality and ease of use with cost is paramount. Our process (depicted below) ensures that your end result is superior.
Does your current website look outdated? Is the current old or stale? Has your website designer abandoned you? If so, our Website Revamp plan is your perfect solution. Our design experts will evaluate your current website and suggest improvements. Then we'll overhaul, redesign, and revamp your current site so you have a new, fresh site that exemplifies the best of you and your company.
Why is a professional looking website important? Because first impressions count. Visitors to your website will make a judgment about you or your business in less than 15 seconds. In that short interval of time, they'll decide whether you're someone with whom they'd like to do business. Your website needs to look professional so you can capitalize on that first impression and convert visitors into repeat customers. Making a good first impression is critical to your attracting new customers. Our Design professionals can help you out.
Development
Web Development has become increasingly important as your website becomes the first impression your prospective clients have of your company. Put your best foot forward with a beautiful, intelligent, and interactive website.
We offer an array of web development solutions to meet your business needs.  Whether you need an internal application to help manage your business, a public facing website to represent your company and create your online image, or have an idea for interfacing with your customers differently or more effectively, we can help you turn your vision into reality.  Our expertise spans the spectrum of web technology, which will allow you to leverage our years of experience to create affordable solutions without skimping on quality or professionalism.
After your new website is complete, you will want to think about your plans for keeping it up to date. While GadellNet can integrate content management, calendars, message boards, and interactive elements into your site when we design it, you may prefer that we take care of updates so you can focus on running your business and we can focus on updating your website.
We offer affordable Website Maintenance plans that make it easy for you to add content and make site alterations.
Design Process
The GadellNet Design process works to ensure that you get exactly with you want and need for your company to be successful in the virtual setting. We believe that the process of creating a website should be simple, direct, and painless.
Mobile Development
Mobile apps that engage is what our team offers for mobile development. As mobile devices and tablets proliferate, your mobile app becomes more crucial, and your ideas more powerful. Look at mobile trends and you'll understand why mobile is becoming center stage for digital strategy.
We believe paper is cheaper than code in the long run, and doing iterations in the design will save time for development. We can design the main screens or do a comprehensive UI screen-by-screen before writing the first line of code, so you know the interface will be clean. This allows us to get client, stakeholder, and user feedback faster.
Already have an app? Our team can conduct a UI and design review for breakthrough and incremental improvements, then code as needed.
iPhone, Windows and Android Ready
Need to cover iPhone, Android, Windows? No problem. Our team is skilled on a variety of platforms, languages, and environments, and has experience designing and developing for all three platforms.
Simple to Sophisticated
We deliver mobile solutions from social and fun applications to data rich enterprise applications drawing on our extensive understanding of the business environment. We can integrate your app with an existing API or build an API for you so that you can deliver a solution via mobile, web, and desktop if needed. We're ready to help you start and ready to help you grow across all media.
eCommerce
eCommerce Development
You're a savvy online retailer. Your goal: to meet the needs of your customer. Creating a user experience that makes consumer lives easier is the key to converting them from casual browsers to loyal customers. It is also the key to seeing your business grow. We dig deep to understand the needs of your customers. Then spanning architecture, functionality and navigation, we hit all the touch points that make for a meaningful user experience—one that will foster your connection with your customer and result in the success of your online store.
Product Catalog
A well-developed product catalog that is flexible to your requirements is important to the success of your business. Our custom catalogs are flexible enough to accommodate multilevel product categories, customizable product layouts and the option to add new products as your business grows.
ERP Integration
We integrate best-in-breed ERP and accounting platforms (QuickBooks, Sage, etc.) to improve your finance management, automated order fulfillment and customer service and incorporate systems that help you satisfy diverse customer demands.
Third Party Shopping Cart Integrations
We integrate your shopping cart with many third party applications to automate your shipping rates and compute sales tax to speed your customers through checkout.
Secure Checkout
Our sites include multiple payment options like Paypal, Google Wallet, Authorize.net, First data, BrainTree and Stripe; plus, encrypted credit card and order data capabilities keep your customers' personal information safe.