This week, our construction specialist, Adam Bundren, spoke to the Indiana Subcontractors Association about applications to improve your construction operations through applications and integration. As a construction specialist working in the technology industry, Adam realizes the potential tech has to transform the construction industry. To help others best understand how technology in construction has evolved, and therefore where it can lead in respect to app integration, business intelligence, and security, he has broken it down into the three stages of triple sight; hindsight, current sight and foresight.
Hindsight
Hindsight is all about learning about and analyzing the past. When it comes to applications and integration in construction, integration was historically limited to main business functions. Accounting, CRM, and some light estimating functions were the only opportunities for integration in the construction space. These integrations were useful for the main operations and increased efficiency and data intelligence.
However, countless other solutions could not be integrated. When it came to creating assemblies and take-offs, field reporting, and productivity capture, it all had to be done by spreadsheets or pen and paper reporting. These core business functions were, at the time, left without the benefits of integration.
In the past, business intelligence was completely reactionary. It was an incredibly labor-intensive process of reporting and analysis realized most often through market research and project close-out reporting. We learned how our mistakes or oversights affected profitability and tried to correct those mistakes in the future without the ability to pivot during project execution.
When it comes to security, we realize it was a different time with different risks. One of the biggest security concerns was human error and user vulnerabilities. The external risks were far fewer simply because of the nature of technology at the time. The tech itself posed a security risk because of the capabilities of the systems and the lifespan of both hardware and infrastructure. The lack of continuity plans were a hindrance on firms as well.
Current Sight
The current sight is all about understanding what is available now and how it can be best utilized to see maximum benefits in your operation. Currently, there are applications available for all aspects of business functions. No longer is it required for an organization to rely on spreadsheets or pen and paper reporting for core functions. Through this, the focus on efficiency is more apparent and more achievable than ever before. This is driven by tighter margins, aggressive schedules, and emerging construction practices.
Currently, integration is thought of in a different way than ever before. It has become a pre-requisite and not a commodity in the application selection process. What does this mean for you? The focus on efficiency in the field is no longer the only profit driver.
In order to offset the "cost of doing construction," corporate efficiency continues to be a driving factor. Two main focuses in this arena are removing data double entry and curbing multiple sources for reporting data.
We have seen a sizable increase in the use of software solutions in construction when we compare 2014 and 2015. Here is a quick snapshot of the top solutions including CRM, BIM, estimating and takeoff, field capture and reporting, and project management.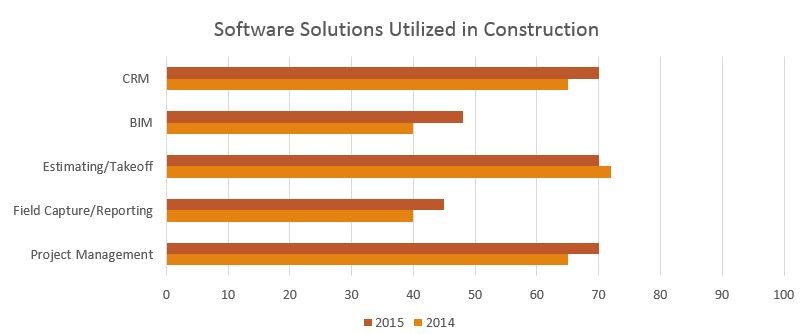 As it stands now, business intelligence is obtained through a strategic integration plan. This allows companies to answer two important questions: What are our economic drivers? And how can we improve these in real time? The analysis is much more flexible and can be run per project, phase, vertical, or any other way you need. Custom dashboards exist for individual roles including executives, sales, operations, and accounting.
Security has come a long way and human error and vulnerabilities are combated by continuity plans as now continuity plans are prerequisites of doing business. The focus in security has shifted to external threats and internal systematic vulnerabilities. To combat this, risk assessments are imperative as they identify risks and publishing mitigation strategies. Cyber liability insurance is one of the best ways to safeguard your business today and calls for a privacy policy, acceptable use policy, network security policy, incident response policy, disaster recovery policy, encrypted devices, secure remote capabilities, protocols for user identification, authentication, and integrity.
Foresight
Looking at the trends in construction today and how far technology has come in this industry, we look at the possibilities of the future. SaaS and hosted platforms for application integration are going to become essential across the board.  In the future, we fully expect to see complete automation for project lifecycles in corporate offices from start to close-out. The benefits of these platforms are many but two of the top benefits are a streamlined application portfolio, scalability without additional labor-force, and a reduced TCO for IT infrastructure.
In the realm of business intelligence, the best strategic planners are going to dominate the market as market strategy and prediction will be widespread throughout the industry. SMART schedules with the ability to pivot project execution plans day-to-day or even hour-to-hour will also become essential.
In the near future, security as a service with risk assessment, intrusion detection, and penetration testing will be the norm. A more granular approach will be taken the managed security, data logging and auditing, role-based security settings, and behavior based security
Bringing it all together
Triple sight is something we should all be implementing. Understanding where we have been and where we are going allows you to set yourself up for success. Five action items you can do immediately to get started:
Create an internal committee
Define your critical applications
Business Continuity Plan
Define your economic driver & true profitability
Leverage internal communication solutions to cut down on lost time
If you want to dive deeper into creating a plan for transiting to mobility or need help with your general tech road map, look over the Construction State of Technology eBook. This comprehensive guide will give you insights into getting the most out of your tech while staying on budget.
[one_third] No Fields Found.
[/one_third]